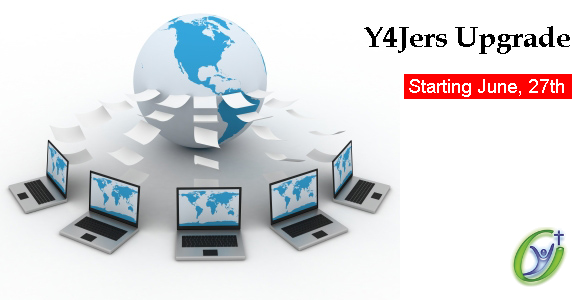 Hi everyone! We wanted to give you a heads-up that starting tomorrow, Tuesday 9/27, we will begin the process of upgrading Y4Jers, the social networking layer of Y4J. The entire procedure may take anywhere from 1 to 3 days so please be patient throughout this time. This upgrade was tested in our development environment where overall, there were minimal, insignificant issues. Hence, our decision to move ahead. The Administration is actively taking backups of all data. That way, in the event of a failure, we'll be able to restore the site to current functionality within a couple of hours.
CRITICAL:
User data: All user data (profiles, photos, videos, music, comments, messages, etc) will be retained.
Profile customization: The new version of Y4Jers will drop all profile customizations such as backgrounds, color settings, etc. Although there may be similar functionality, we have no choice as the upgrade is a completely redesigned system and retaining such customization, for each profile, with such a significant upgrade – is nearly impossible.
Facebook connect: You will have the ability to login with your Facebook account. Although this is an exciting piece of the upgrade, it assumes that the email you used to sign-up for Y4Jers is

the same

as your Facebook email address. Otherwise, it will automatically create a new profile for you. Therefore, if you are hesitant about doing so and/or forgot which email address you used, feel free to contact us and we'll help you out. This type of account linking

cannot

be undone! Once your account is linked, you will be required to always log-in with your Facebook credentials. Similarly, this means that if you're logged-into Facebook, you will also be logged-in to Y4Jers (and vice versa). Although this is a great feature to help connect your online social experience, we have

not

tested all possible scenraios of this feature, so use it at your own 'risk'.
Gallery/Forums: Access to the Y4J Photo Gallery and Forums will be limited after this upgrade. We hope to get these working shortly after.
There will be many new features in this version but that's not it! We have already begun testing the next version of the software which is currently in beta. Once a stable version is released, we will begin the process of arranging for an upgrade. So don't get too comfortable! 😉
Feel free to let us know if you have any questions or concerns. Blessings!
Y4J Administration